Pacific Overtures (Complete Recording)
25th Anniversary Remixed and Remastered Complete Recording
CDJAY2 1437
DDD
DISC 1 75'01"
DISC 2 42'51"

The legendary Complete Recording on 2CDs of the Original London Cast from the English National Opera production of Stephen Sondheim's masterwork, PACIFIC OVERTURES is now available again.
The full brilliance and glory of Stephen Sondheim and John Weidman's masterwork together with Jonathan Tunick's wonderful original Broadway orchestrations can be heard in it entirety (without any cuts) in this remixed and remastered recording.
This Special Limited Edition re-release has been remixed and remastered with love and care, using the latest techniques not previously available, from the original masters and is now available again for all Sondheim fans to enjoy. A limited Edition of the 25th Anniversary CD's comes with a lavish booklet containing the libretto with a slip packaging and is only available directly from JAY Records.
The CD package has been loving created and includes a perfect bound 44 page booklet with the libretto and orginal production shots, wrapped with the 2 CD's in a slip case to keep.
This new remixed/remastered re-release will also be available as a download from iTunes.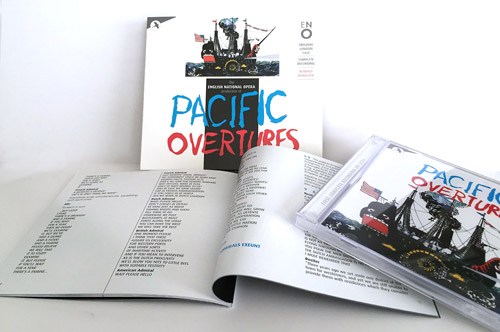 CD ONE
Prologue
Reciter
THE ADVANTAGE OF FLOATING IN THE MIDDLE OF THE SEA
Reciter and Company
even in a land...

The prisoners name...

Underscore

What did the councillors say?

THERE IS NO OTHER WAY
First and Second Observer
FOUR BLACK DRAGONS
Fisherman, Thief, Reciter and Company
They come from a land

Please, I am here...

Why do they laugh?

Please I must speak...

Disaster!

CHRYSANTHEMUM TEA
Wife, Mother, Soothsayer, Priests, Samurai, Sumos', Physician and Shogun
The Americans have not left!

My lord governor of Uraga...

POEMS
Kayak and Manjiro
Tamata's Death

WELCOME TO KANAGAWA
Madam, Geisha, Girls and Reciter
The Americans insisted...

From the personal journal...

MARCH TO THE TREATY HOUSE

No one knows what was said...

SOMEONE IN A TREE
Old Man, Reciter, Boy and Warrior
Whatever happened...

LION DANCE

CD TWO
The spiritual heart...

The Americans did not come...

PLEASE HELLO
American Admiral, Abe, British Admiral, Reciter, Dutch, Russian and French Admirals
ADMIRALS EXEUNT
Orchestra
The Americans did not come...

The tale of the courageous King

An intriguing performance...

Two men, whose fortunes...

A BOWLER HAT
Kayama
Kenjitsu, the ancient art...

PRETTY LADY
Sailors
The murder of these English...

You are sure that the indemnity...

Death to all traitors!...

In the name of the Emperor...

NEXT
Reciter, Emperor and Company
STREAMING DIRECTLY BELOW
APPLE MUSIC >>> SPOTIFY