Six Wives (Original Cast Recording) of The Concert Performance
Original Cast, The York Theatre
AVAILABLE NOW!
A VERY BRITISH ROYAL OFFER FROM JAY

Buy SIX WIVES and either:
THOMAS AND THE KING or I AND ALBERT
and get the third recording FREE
Just purchase any TWO of the recordings and we will do the rest!!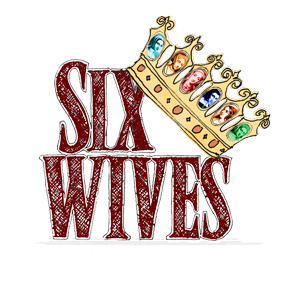 CAST
Alexander Gemignani - Henry VIII
Judy Kaye - Catherine of Aragon, Anne of Cleves, Catherine Parr
Alexandra Silber - Anne Boleyn, Jane Seymour, Kathryn Howard
Nick Wyman - Ministers
Liam Forde - Messenger, Minstrel, Fool
In 1992, Janet Hayes Walker and The York Theatre Company produced the premiere of Six Wives as a mainstage production. It was presented in York's original home, The Church of the Heavenly Rest on 5th Ave. and 90th St. Directed by Maggie L. Harrer and music directed by Norman Weiss, it starred Steve Barton as Henry VIII, Tovah Feldshuh and Kim Crosby as the six wives, Rex D. Hays as the ministers and Buddy Crutchfield as the messenger.
James Morgan, Producing Artistic Director
When Joe Masteroff first mentioned Six Wives to me as a musical, I felt an interesting journey was about to begin. I was not to be disappointed. Shortly thereafter he provided me with a copy of the book and lyrics. The most interesting idea in the whole concept was that the Six Wives were to be played by only two women...indeed a challenge for the respective actresses. Besides the role of Henry VIII, the Ministers are played by the same actor and three other roles are played by one actor. In addition, the structure of the book and lyrics helped me considerably to come up with the appropriate music for each character.
I'd like to extend my thanks to Jim Morgan, artistic director of the York Theatre in New York for producing workshop readings which helped considerably towards bringing Six Wives to its present state. And thanks to John Yap, of JAY Records London who produced this recording. Finally, very special thanks to co-producer Maria Candil of Madrid for her very significant participation.This recording is dedicated to Steve Barton, the original Henry in Six Wives. A live recording of him singing is a special Bonus Track at the end of this complete recording.
Edward Thomas
Steve Barton (June 26, 1954 - July 21, 2001)
Steve Barton began his career as a pianist before transitioning into onstage roles as a teenager. Excelling in acting, dancing, and singing (his voice was a beautiful baritone), he attended the University of Texas at Austin's Department of Drama on multiple scholarships. During this time, he performed leading male roles with the Austin Civic Ballet for four seasons. His ballet career took him to Europe, where he switched to primarily performing in plays and musicals, playing leading roles in dozens of shows, both classic and contemporary. The German newspaper Hamburger Abendblatt called him "the Pavarotti of musical theater".
He originated the role of Raoul in Andrew Lloyd Webber´s Phantom of the Opera in both the West End (1986) and on Broadway (1988); in 1990, he returned to the Broadway production, this time as the Phantom. Several years later, he would make his only other Broadway appearance, joining the cast of The Red Shoes in previews to take over the role of Boris Lermontov. His other theatre credits in the US included productions of Wright and Forrest's Anastasia, The Threepenny Opera, Kiss Me, Kate, and Sweeney Todd. With the York Theatre Company, Steve played Henry VIII in their world premiere of Six Wives in 1992. In Vienna, he played the Beast in the European premiere of Disney's Beauty and the Beast and originated the role of Count von Krolock in Tanz der Vampire, earning the 1998 IMAGE Award as Best Actor (the German-language Tony Award). He made frequent concert appearances on both continents.
He appeared on both The Young and the Restless and Another World, as well as numerous German and Austrian television shows and can be heard on recordings of Cats (Vienna), The Phantom of the Opera (London), Show Boat, Anastasia, and Tanz der Vampire, as well as the charity album Living Water, for which he wrote some of the songs and sang accompanied by the voice of Mother Teresa. His last performance was a concert in London's Royal Albert Hall (May 2001), where he sang "If I Ruled the World" from Pickwick, among other pieces.
More than fifteen years after his unexpected passing, Steve is remembered and missed, not only by those who were blessed to have the special person he was in their lives, but by the many fans he has around the world.
CD ONE
PROLOGUE
Henry VIII
PICTURE MY PALACE
Henry VIII
OH TELL ME WHY
Anne Boleyn
OH TELL ME WHY (Coda)
Anne Boleyn and Henry VIII
A GREAT KING / DO NOT DENY MY LOVE
Anne Boleyn, Henry VIII and Catherine
I COULD GIVE YOU SONS
Anne Boleyn and Henry VIII
LEVITICUS
Minister
EXAMINE THEM
Catherine of Aragon, Henry VIII and Minister
STORMS IN THE CHANNEL
Messenger and Henry VIII
CHARLES EMPEROR OF SPAIN
Minister and Henry VIII
PLAGUE ALL AROUND ME
Messenger and Henry VIII
NOTHING CHANGES
Henry VIII
ANOTHER GIRL
Catherine of Aragon and Henry VIII
OH COME SWEET MAID
Messenger
I CANNOT ACCEPT
Anne Boleyn and Henry VIII
I HAVE A SON
Henry VIII
THE LADY OF CLEEVES
Minister
ACH LIEBER GOTT
Anne of Cleves
SHE HAD A WONDEROUS LAUGH
Henry VIII
THE PERFECT WEDDING NIGHT
Henry VIII and Anne of Cleves
IT'S COLD IN THE PALACE
Henry VIII
SCROLL SONG
Minister, Kathryn Howard and Messenger
I DO NOT WISH TO MARRY
Henry VIII
AND SO BEGIN THE HAPPINESS
Henry VIII
INTERROGATION
Henry VIII and Kathryn Howard
EPILOGUE
Henry VIII
ONLY FOOLS
Henry VIII
OH COME SWEET MAID Reprise
Messenger
BOWS
Dennis Buck
Bonus Track
Steve Barton